Already in March 2020, the retailer association published a first corona study, which already provided important insights into the current situation of e-commerce. In the meantime, business closings and exit restrictions have become a reality. The retailers' association again asked 490 retailers what effects the crisis situation has on e-commerce. Not all retailers surveyed are benefiting from an online boom, as the study results show.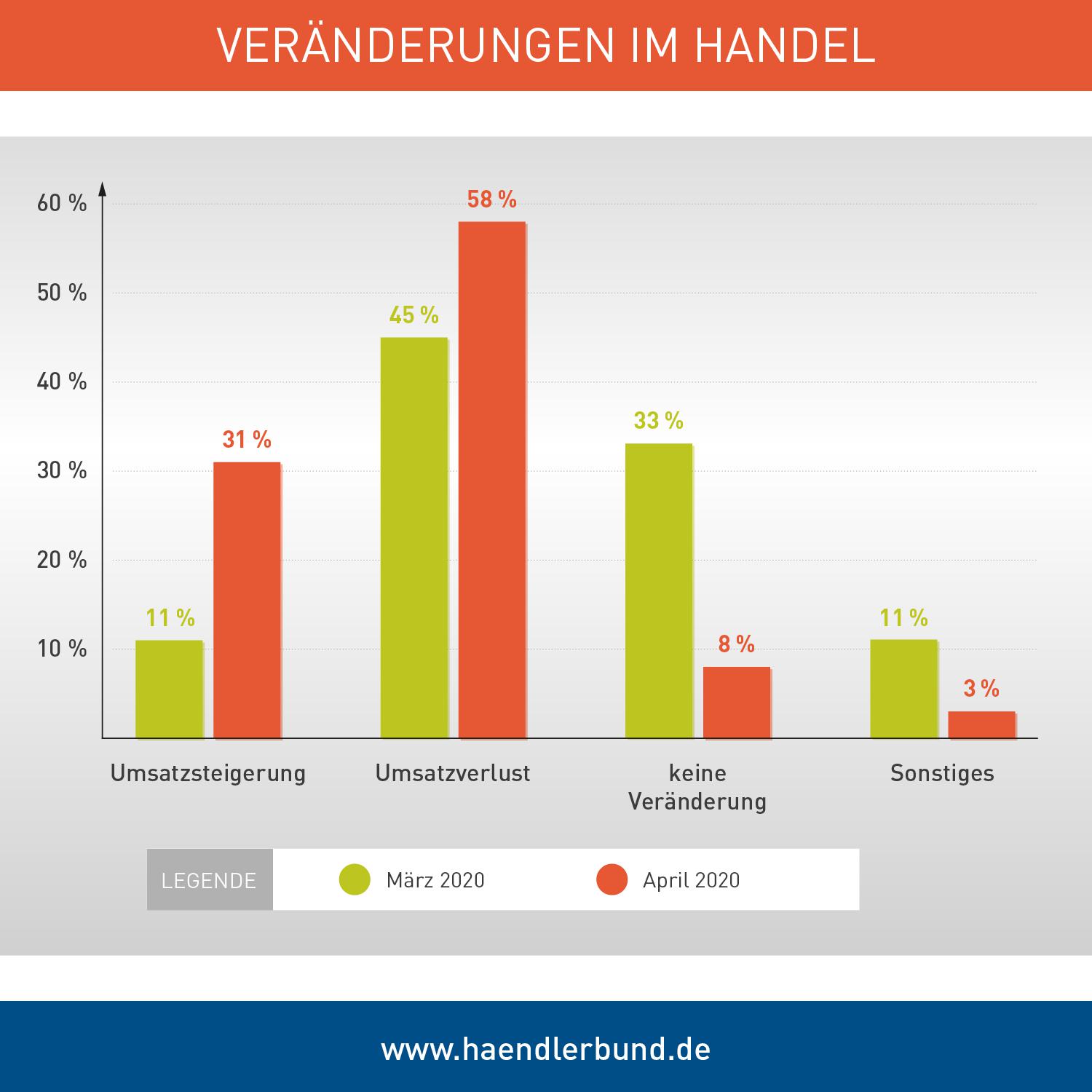 Almost all retailers (80 percent) feel the effects of the pandemic, but e-commerce is experiencing the corona crisis ambivalently: While 27 percent benefit from positive effects, 58 percent struggle with negative consequences. In concrete terms, this means an average drop in sales of 68 percent for more than every second dealer (58 percent). On the other hand, about a third of the respondents (31 percent) achieved an average 52 percent increase in sales. Apparently the winners of the crisis are the assortments for clothing, leisure and garden.
Every second without state emergency aid
Many retailers (42 percent) use state or non-state emergency aid and have so far decided to apply for it. The traders' initial carelessness has meanwhile turned into pessimism and fear. While according to their own statements 10 percent less amused by the virus topic, the proportion of those who feel panic increases by 11 percent. The increase is even clearer for those who fear a long dry spell with an increase of 21 percent. Two thirds (63 percent) now report bottlenecks at suppliers or service providers and 17 percent of canceled orders. Almost every second (47 percent) had to send employees in home offices or short-time work.
Flexibility as a flight forward
Many online retailers have already adjusted to the new situation by adapting their range. Among those who were able to react, 40 percent expanded their offer and 27 percent changed the offer. Experience has shown that online trading is a highly competitive market that has demanded a lot of flexibility and hard work from retailers in the past. It is to be hoped that many traders will take advantage of this mentality and experience even in the crisis.
Corona crisis as a curse and blessing for e-commerce
"The corona crisis is a curse and a blessing for us all. On the one hand, it brings fear of existence, on the other hand, it acts as a catalyst for the digitalization of retail. With store closures and curfews, online retail is currently experiencing unprecedented acceptance and is reaching new target groups. If quality and service are convincing, the corona crisis can have a lasting positive effect on online trading and the previously sluggish digitalization in Germany, "says the CEO of the dealer association Andreas Arlt.
80 percent are affected by the corona crisis.
58 percent suffered losses in business.
42 percent applied for financial support.
67 percent are fearful or unsettled.
63 percent have problems with the delivery of the goods.
22 percent expect the situation to worsen.
26 percent use a face mask at work.
The dealer association has summarized all the results of the survey and numerous dealer voices from the industry in a PDF document and an infographic.