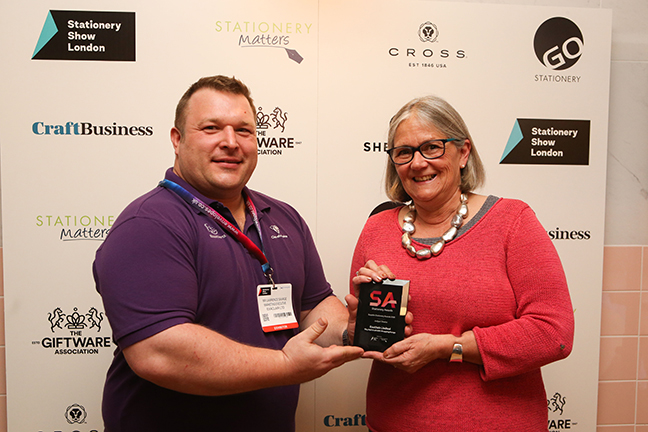 The Stationery Show held again at the Business Design Centre in London, UK. The two-day event – concluding today (World Stationery Day) – featured a huge selection of writing and paper products from around the world and included presentations, workshops and hands-on sessions, all put together with the retail channel in mind.

The show organisers invited Phil Pond of forecasters Scarlet Opus to reveal the trends that will be setting the pace as we move into the 2020s. Influenced heavily by upcoming events such as next year's 2020 Summer Olympics in Tokyo, Japan, Pond explained in his 'Trends for Stationery 2020 and beyond' talk that the Japanese concept of 'Satori' – a yearning for simpler, more natural products – will have a huge influence on design and colour palettes as we enter the next decade.

Other trends referred to as 'Fellowship' and 'Game Changer' will be driven by ecological concerns and a desire to "harness the collective power of humanity to create a better, fully-sustainable world". The central mezzanine section of the exhibition space showcased the types of products that epitomised these themes, giving visitors a preview of how OP design is likely to evolve over the next few years.

Big-name brands such as edding, COLOP, Stabilo and Staedtler all featured prominently, but one area was also given over exclusively to new start-ups in the industry. This LaunchPad zone introduced 30 new suppliers to the stationery industry that have a new product or service they would like to launch in the market. These included a Dutch company – called Bloom your Message – that produces 'growing' greeting cards and pencils, for example, meaning the products have seeds embedded in them and, once finished with, can be planted in soil to create a range of flowers, herbs or vegetables.

At the end of the day during an informal drinks reception, the 2019 Stationery Awards were announced. Aiming to recognise good practice and innovation in the retail sector, several suppliers had a good evening, picking up a couple of wins each – Quadrille won both the Diaries, Organisers, Calendars and Licensed Stationery categories, while ExaClair's new gift wrap range by Clairefontaine also collected two awards, including the Judges' Choice. One of the LaunchPad exhibitors, Makers Cabinet, won the Desk Accessories category.

Other winners included Chameleon Art Products (in the Arts & Crafts category), Studio Pens (Everyday Writing Instruments), JPT Europe (Filing & Storage), Leuchtturm 2017 (Notebooks & Journals), Securit by Vermes (Novelty Stationery), Petra Boase (Social Stationery), Lime Stationery & Art (Writing Instruments over £25) and VENT for Change (Good Design).

The dates for the 2020 London Stationery Show have not yet been confirmed, but are likely to be held again at the Business Design Centre in London, UK, in late April/early May.