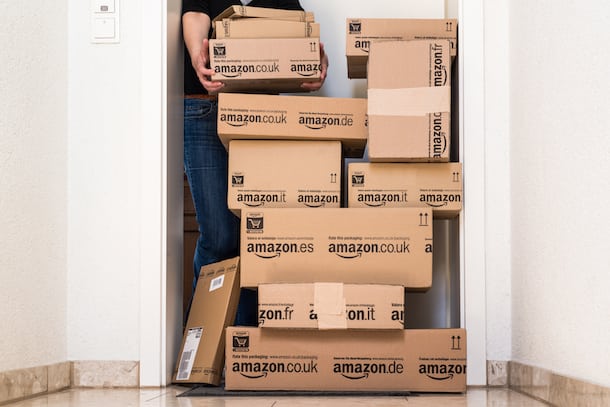 Amazon is spending $800 million in the second quarter to flip to a free one-day shipping service for its Prime members.

Prime customers currently enjoy free two-day shipping as well as a number of faster, paying alternatives, but the standard free service will now evolve into a one-day programme – and Amazon is getting its cheque book out to make that happen.

CFO Brian Olsavsky called out the $800 million number during yesterday's Q1 earnings conference call. That figure is just for Q2 and will no doubt increase as further investments are made during the rest of the year.

Olsavsky said that Amazon's delivery network is principally tuned to two-day delivery at the moment, but that the company was moving quickly with its transportation partners to get most of the one-day capabilities built out this year. The initial focus of one-day shipping will be in North America, but Olsavsky confirmed that it was very much a global rollout in markets where the e-tailer offers Prime membership.

Given that Prime membership has been growing very well thank you very much with a two-day shipping service (Amazon's Q1 revenue from subscriptions – which includes Prime – was up 42% year one year), one analyst on the call questioned the strategic rationale and the "big opportunity" behind the move to free one-day shipping.

Olsavsky replied that it was down to selection and convenience for customers, although he didn't specify which type of customers would benefit the most.

However, given that next-day delivery has been standard practice in the office products and business supplies industry for the best part of four decades, this move could be seen first and foremost as targeting B2B customers and luring new members to Amazon's Business Prime membership.

Amazon Business customers that sign up to Prime currently have to pay an annual fee – up to $10,099 for enterprise accounts with more than 100 users – for two-day shipping. The Amazon Business website has several customer case studies that extol the virtues of Business Prime membership, one of them being how Amazon provides speedy two-day delivery.

When these same customers can get free next-day shipping from virtually any office products reseller, that fast delivery message from Amazon doesn't really cut it. Now this one-day delivery capability from Amazon might well provide a shot in the arm for its Business Prime membership rates and help it chip away at the selling arguments of rival B2B resellers.

Sure, there is still a fee involved with Business Prime, but with no minimum order value, the promise of a selection of 100 million qualifying products, and other purchasing and spend management tools, Amazon has just added another string to its bow with next-day delivery.

Other resellers should now be taking a good look at their own loyalty programmes – assuming they have one – and see how they match up. Of course, it's not all about products anymore in the B2B office supplies and solutions world – but a large part of it still is, and a challenge for many is how to keep customers from making Amazon their first – and seemingly automatic – port of call.