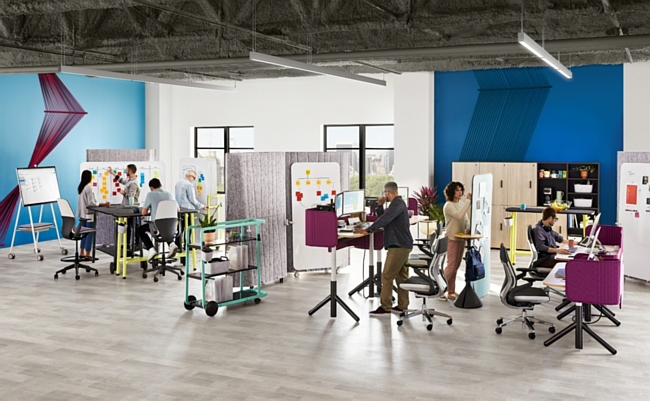 Top execs from Steelcase and Microsoft unveiled the next phase of their workplace collaboration efforts in an event from New York that was broadcast live on Facebook yesterday.

Steelcase CEO Jim Keane and Microsoft Chief Product Officer Panos Panay discussed the evolution of the workplace and how the companies have been cooperating to bring together analogue and digital solutions for workers, whether they are in an office environment or elsewhere. It was very much a continuation of the initiative the companies announced two years ago.

The hour-long presentation featured a first look at Microsoft's new Surface Hub – the 2S. This a 55-inch interactive collaboration device – with a huge 85-inch version promised for next year – for which Steelcase has developed a mobile stand and wall-mounting system called Roam.

Keane explained how Steelcase had looked at the workplace, working with key customers to solve problems they encountered as the requirements for offices become more 'fluid' and teams need solutions that align with the concept of 'active collaboration'.

The company has carried out research, including the new Steelcase Active Collaboration Study 2019, that explored collaboration in the workplace and identified gaps that exist between how people are currently working and what they need. The study found:

·72% of people want to move when collaborating but only 53% can
·62% of people say they can't move their furniture but the majority want to
·70% would like to use an interactive collaboration device but only 42% have access to one
·66% say they lack technology to visually display work
·70% of people are still trying to collaborate in traditional conference rooms (sitting around a large table with little room to move around)
· 75% of traditional conference rooms are enclosed, 81% of collaboration sessions are scheduled, while only 19% are spontaneous

These findings helped Steelcase develop a new line of workplace furniture called Flex. This includes moveable desks, tables, markerboards, carts, and screens, all of which are easy to move. A video at yesterday's event also showed how small meeting areas can be created in a larger space by using mobile acoustic panels.