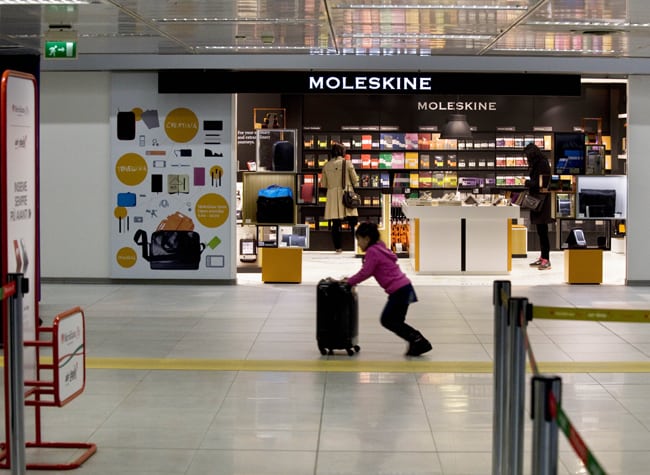 Stationery and lifestyle products brand Moleskine has reported impressive 2018 financial results, with strong growth on both the top and bottom lines.

Moleskine – which is owned by Belgium-based group D'Ieteren – reported 2018 sales of €174.1 million ($197 million), a 14.8% year-on-year improvement at constant exchange rates. The end of the year was particularly strong, with year-on-year sales in December up almost 30%.

Each of Moleskine's reporting regions achieved double-digit sales growth in the year, broken down as follows:

·EMEA (47% of total): up 13.8% with growth across all sales channels.
·Americas (36% of total): 13.4% growth, with a particularly strong performance in the B2B channel.
·APAC (17% of total): up 19.6% with strong B2B and e-commerce sales growth. Store closures led to lower sales in the retail channel.
·Around 40% of Moleskine's sales growth for the year came from non-paper products as revenue from bags and small leather goods more than doubled.

Moleskine's four main sales channels also reported varying degrees of growth during the year:

Wholesale revenues rose by 6.9% reflecting growth in EMEA and the Americas and stable sales in APAC. Moleskine continued to develop direct relationships with key retailers. In Japan, a subsidiary was established to improve coverage and to further capture the market potential through increased customer proximity. The development of client relationships in specialised channels for non-paper (eg bags and consumer electronics) also contributed to sales growth.

B2B realised 41.5% growth, driven by the development of major projects with global corporations and promotional product suppliers.

Retail sales were up just 3.2%, largely because of a network rationalisation programme that saw 16 store closures and nine openings. The year-end store-count equalled 80 compared with 87 at the end of 2017. The store openings took place at high-traffic travel locations, including London Liverpool Street station, Paris Montparnasse station, Naples airport, Paris Roissy airport and Naples railway station. Better merchandising and the growing weight of bags in the sales mix led to an overall increase of the average value per transaction.

E-Commerce revenues rose by 12% thanks to a strong performance in Q4 (+19% y/y). Marketplace launches in China contributed to the solid result in H2 2018.

Moleskine's adjusted operating profit for the year was €28.6 million, up 13.5% on 2017, while its adjusted pre-tax profit almost 25% to €18.9 million. D'Ieteren said the improvements were due to investments made in the previous years and the positive impact of strategic initiatives.

The company is planning for more of the same in 2019, with constant currency sales and adjusted pre-tax profit both forecast to again be up in the double digits.