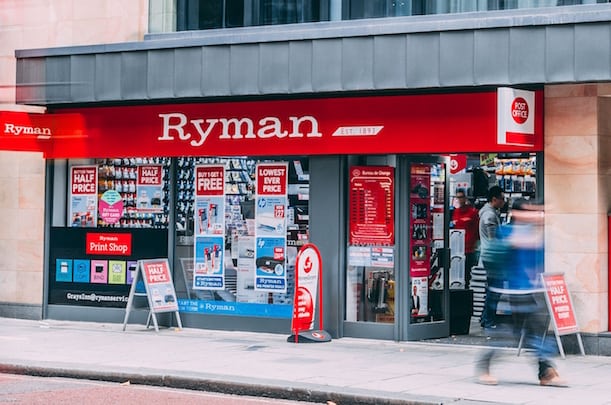 Despite the widely reported woes of the UK retail sector, stationery and office supplies chain Ryman reported a same-store sales increase in the 12 months to the end of March 2018.

In accounts just published at Companies House, Ryman said that its UK network of around 220 outlets achieved comparable in-store growth of 2%, an increase the company described as "credible" given the challenging trading environment on the UK high street.

Ryman's full-year sales were flat year on year at about £128 million ($164 million) after the closure of several under-performing stores at lease end, although the figure represented a comparable sales increase of 3.4%. As well as the retail growth, non-store sales jumped by almost 17% – these include online sales, print services and partnerships the company has formed with the likes of DHL and Western Union.

For the Ryman Group as a whole, annual sales were around £131 million, including the £3 million contribution of the London Graphic Centre in its first full trading year in the group after it was acquired in October 2016.

Increased costs meant that Ryman Ltd reported underlying EBITDA of £7.5 million versus £8.2 million in the prior year, while pre-tax profit fell by around 27% to £5.7 million. However, the company said that both sales and EBITDA had increased in the current financial year, something it said was "very encouraging given the uncertainty created by the current economic and political circumstances in the UK".

Over the Christmas 2018 trading period, for example, Ryman's comparable in-store sales rose 2.5%, boosted by new categories such as gifting, with the London Graphic Centre achieving a similar percentage uplift.

Online and B2B continue to be the strongest growing areas of the business. The latter, in particular, has benefitted from small business initiatives spearheaded by group Chairman Theo Paphitis. These include sponsorship of Small Business Sunday and the National Enterprise Challenge.

There have also been a couple of initiatives aimed at creating synergies between Ryman and fellow TPRG company Robert Dyas, an electronics and homewares retailer with almost 100 stores in the south of England.

A click-and-collect option means that Robert Dyas customers can order items online and pick them up from a Ryman store, and a joint Ryman/Robert Dyas pilot location has been operating for several months in south-east London. Paphitis said this was one of the top performing stores over the Christmas period, and the group is now actively searching for further suitably sited stores to repeat this format.