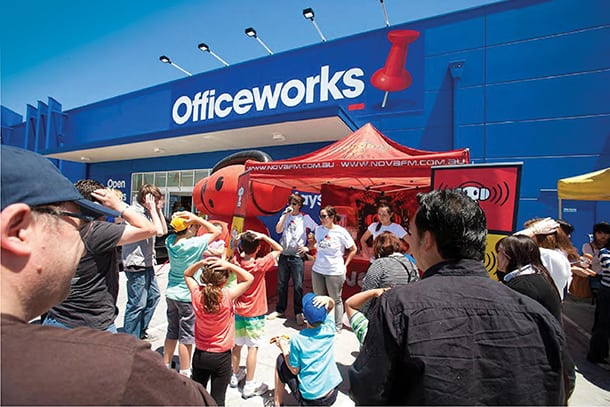 Australian office supplies retailer Officeworks has reported impressive sales and earnings growth for the financial year ended 30 June 2018.

The company's sales topped the A$2 billion (US$1.45 billion) mark for the first time, coming in at A$2.14 billion, up 9.1% versus the previous year, the highest level of year-on-year growth at Officeworks since it was acquired by Wesfarmers in 2007. There was a strong end to the year with fourth quarter sales jumping 10%, although this was partially due to the earlier timing of the Easter holiday in 2018.

"The growth in sales and earnings was underpinned by new and expanded product ranges, merchandise layout and store design changes, online enhancements, and a relentless focus on price, range and great customer service across all channels to market," parent company Wesfarmers said in its earnings report.

Providing more details during the group's webcast, Officeworks Managing Director Mark Ward said that all stores had undergone some kind of merchandise refresh during the year, pointing to the arts and craft and early learning categories where Officeworks was achieving increased market penetration. There were record results during the back-to-school, Christmas and tax periods, he added, underlining the pull of Officeworks for students, consumers and business alike. Officeworks doesn't break out its comparable store sales, but Ward said there was growth both in stores and online.

The company ended the financial year with 165 stores having opened six and closed five outlets during the 12-month period.

Ward also called out "significant" growth in Officeworks B2B offering to micro, small and medium-sized businesses, where an expanded team helped to achieve a record year for this unit.

Ongoing investments were made in stores and online to support the future growth of the business. In fact, the capital expenditure programme during the year represented the largest capital deployment by Officeworks since the 2009 financial year. Initiatives included a new two-hour click-and-collect service for products in stock.

In addition to the good top-line performance, Officeworks reported a nice uptick in profits as it successfully managed gross margins and the costs of doing business. EBIT was up 8.3% year on year to A$156 million while EBITDA increased 7.7% to A$181 million.

Key focus areas for the 2019 financial year include continuing to strengthen and expand the customer offer, further investments in both physical and digital assets, and enhancing productivity and efficiency; basically a continuation of the strategy that has served Officeworks well over the past few years under the leadership of Ward who is stepping down at the end of the calendar year. No update was provided on the appointment of his successor.