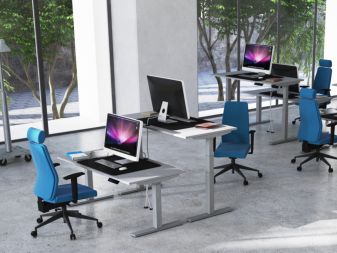 Dynamic Office Solutions has invested in more than 30 per cent more warehouse and production real estate to keep pace with its 38 per cent growth path that is surpassing a 2017 management forecast.
Range extensions, including the new Air Sit Stand desking (pictured) and Slimline Impulse desk system, have helped fuel the growth. Dynamic has also upped its service with higher levels of stocking and a later order cut-off for next-day delivery of 6pm.
Carl Verlander, MD said, "we always pride ourselves on moving quickly and efficiently to capture market opportunities. But even we have been surprised by our level of success in what is always a very competitive market. We keep hold of our low-cost roots but we are constantly bolting on initiatives that take us into different areas and keep us ahead of competitors."
A new finance programme is being introduced together with investment in e-commerce systems that allow dealers to view stock, track deliveries and access vital commercial information. Staffing levels at the Northampton based company have also increased in all departments and fresh customers are joining at a rate of 4-5 a week. The Dynamic liveried fleet has been expanded by more than 50 per cent and the 380-strong Franken visual communications portfolio is having an impact in the market.
The Dynamibus mobile London Routemaster bus has been completed refitted to refresh what has been said to be one of Dynamic's most popular marketing initiatives. The business is also expanding its reach with express deliveries now to France, Ireland, Germany, Switzerland and the low countries.

From:Channel info