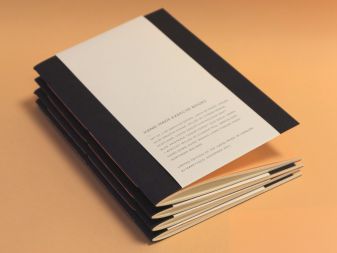 With the Antalis Review Awards 2017 ceremony taking place next month, the company looks back on last year's awards where the Modern Stationer, Mark + Fold, scooped first place for at 'Stationery' category for its range of handmade exercise, stocked in high-end retailers including Harvey Nichols, Oliver Spencer and SCP.
With simple aesthetics that place material choice at the heart of design, it's the carefully selected substrates that are the jewel in the crown of this premium range, the beauty of which captured the Review judge's imagination.
Rob Chandler, Head of Print Channel for Antalis added, "Mark + Fold's work to create such a classic, timeless, experiential exercise book in today's digital world, championing the art of the written word and the effect on those who use it, struck a chord with every judge. The quality and simplicity of both the exercise books and the cards are a striking reminder that less truly can be more and that substrate selection really does have the power to transcend a user experience."
Mark + Fold works closely with family-run factories in the UK, as well as hand-making elements at its London studio. Alongside the exercise books, the company also offers a range of luxury exercise books notebooks, notepads and cards. Colours feature Keaykolour Navy 300gsm, Olin Smooth Cream 120gsm and Pop Set Apricot, Gold and Fawn in the exercise books and Pop Set Ivory, Storm and Grey in the muted cards.
Amy Cooper-Wright, Creative Director at Mark + Fold said, "we're quite unusual in that the material is absolutely the first thing for us. We select exceptional papers and resist doing too much to them - the textures and materials speak for themselves. With both our exercise books and muted cards, we looked for the best colours we could find which led us to Keaykolour and Pop Set.
"The first exercise book we made was a limited edition for Christmas in 2015 and it sold out so quickly we made more, including a series especially for furniture retailer, SCP using Pop Set in Grey, Spring Green and Citrus Yellow alongside the Keaykolour Navy. It's our trademark design to trim the covers back, exposing the colour of the paper underneath with the thread matching the colour of the end paper in each book. Our relationship with Olin Smooth Cream 120gsm goes back much further - it's milled in Stoneywood in Aberdeenshire by a Scottish family business and is warmer and smoother than anything else you'll find."
Themed around the 'Mark Your Mark' concept, the Antalis Review Awards 2017 ceremony is being held at the Flight Club, London on the 21st September. For more information please visit www.antalis.co.uk/thereview